Location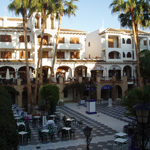 Villa Martin shops and restaurants.
View the gallery >>
Cabo Roig, which is part of Orihueia Costa, is the fastest-growing resort on the Costa Blanca, offering unparalleled access to a wide range of beaches, golf courses, childrens attractions and a strip that is longer than that of Tenerife. Whatever you are looking for in your family or golf holiday, you can find it at Cabo Roig. From the comfort of any one of 1, 2, or 3 bedroom apartments at La Rotonda Aparthotel.
La Rotonda apartments are within 15 minutes of Murcia airport and 45 minutes of Alicante airport. We can arrange airport transfers from both Costa Blanca airports to your apartment at La Rotonda (see Rates page). Golf courses within 15 minutes of the complex include Villamartin, Las Ramblas and Campoamor to name a few

Cabo Roig Marina.
La Rotonda Aparthotel is located next to beach Cabo Roig, with its Marina and Restaurant plus beach bar. It is no more than a pleasant 6 minute walk from our apartment complex. Further on you have La Capitan beach, La Zenia beach and Playa Flamenca beach, in the other direction is Mill Palmeras beach. There is a huge choice of beaches, water sports & activities to choose from in the surrounding area. With only 200mm of rain a year, Cabo Roig and Orihuela Costa is the ideal place to soak up the sun. For those who prefer lightening their wallets to deepening their tans, there are the nearby shopping centres Dos Mares near Murcia airport and The Habaneros and Carrefour in Torrevieja
The Costa Blanca's climate has been described as one of the healthiest in the world. The mudpacks of nearby Mar Menor and Lo Pagan (with La Manga across the bay), are said to have curative properties for conditions such as arthritis and skin complaints. The Mar Menor and Lo Pagan is a 20 min drive from Cabo Roig.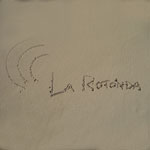 From La Rotonda Aparthotel Cabo Roig, you can explore Murcia or the historic and beautiful city of Alicante, ideal places to find the real Spain. We are close to the mediaeval Cathedral of Cartagena-Murcia. If history's your thing, make sure you don't miss Murcia's Holy Week procession during the beginning of April, which is famous throughout Spain, as life-sized sculptures are carried around the city in a festival of candles and flowers.
Cabo Roig on the Costa Blanca, is close to Torrevieja, Murcia, Alicante, Benidorm, La Manga, Mar Menor and some of Spain's most popular holiday destinations, whilst retaining the unique flavour of beaches, that haven't quite been 'discovered' yet. All of which are considered to be the finest beaches on the Costa Blanca, with the seal of the blue flag award!
View Larger Map
Gallery