Attractions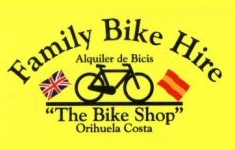 Family bike hire at affordable prices, enjoy the delights of cycling around the Costa Blanca. Whether it is beach front scenery, quiet canals, or simply the availability of a bike to go to the shops, we can deliver hire bikes to your door and collect when the hire is completed. a simple yet effective service, without added complications!
Family Bike Hire
Dining Out
In Cabo Riog you have a choice of some of the finest restaurants on the Costa Blanca, apart from some excellent spanish restaurants that have their own entertainment (outdoor singers and flamenco dancers). Choose from Mexican to Hungarian and Italian to Russian, there's an outdoor steak house and bar set among the palm trees (The Sunrise) opposite the complex to put you in the holiday mood, and of course a number of Chinese and Indian restaurants to fill your calendar. All these are a few mins walk from the complex.
Bars
Again you will be spoilt for choice when it comes to having a drink or two! For those who like to relax with a drink on holiday there are a large selection of bars in the localilty, (Spanish, English, Irish and Australian etc.) Offering the usual beers, cocktails and spirits, they also offer local drinks, and the local 'Bodegas' are a great place to grab a glass of local wine and enjoy the entertainment provided by most bars at night.
Two Equal Columns
Amenities
Supermarkets
Medical Centre
24 Pharmacies
Car Hire
Post Office
Banks
Shopping
Dos Mares and Habaneras are shopping malls situated only a short drive from La Rotonda. Both offer a wide variety of shops to suit the whole family. If, after a full day shopping you want to relax, you can choose from a selection of restaurants from fast food to tapas. To keep the kids entertained, why not take them 10 pin bowling, or to see their favourite film at the cinema complex that both have to offer.
Orihuela Costa Resort
A 15 minute walk from La Rontonda Aparthotel is the Orihuela Costa Complex which is free to enter and has an outdoor swimmming pool, tennis courts, squash courts, there is a grassed area to sunbathe (with sunbeds) plus there is bar/restaurant and english pub, in the summer months there is entertainment in the evenings. The swimming pool (which is big) is free to use most of the year but there is a small charge for the other aminities, this is a fantastic day out for the family, which both adults and kids will enjoy. It is not to be missed!
Alicante
The provincial capital, Alicante is a busy, bustling seaside city. It has several white sandy beaches, and watersports are well catered for here - diving, waterskiing, scuba, windsurfing, underwater photography etc. Also plays host to a large number of cultural and musical events, as well as operas, ballet and flamenco dancing.
Click here for detailed information on Alicante, Denia, Benidorm, Torrevieja.
- Including Videos of the areas around Alicante, Malaga, Calpe, Javea, Benidorm, Denia, Torrevieja and other cities around the Costa Blanca and Costa del Sol, Spain
Murcia
A large city, it contains many restaurants and plazas with bars and cafes. It is a university city, and has many museums and libraries. Murcia also has some fantastic shops and shopping centres.
Funfair
The funfair on Torrevieja marina is open during the summer months, and has a large selection of rides including bumper cars, and a flight deck simulator.
Go-Karting
There are two local go-karting tracks, one in Santa Pola, and another just outside Torrevieja. These offer safe fun for all the family.
Golf
There are three magnificent golf courses in the locality. Click here for further information and maps.
Markets
Saturday market at Playa Flamenca (9.00am - 2.00pm) is not to be missed! The Market stalls stretch for about a mile along the street, one side selling fruit, bread, olives, cheese, etc, and on the other side clothes, leather goods, shoes, linens, and furniture!
There is also a night market in Torrevieja, every evening untillate during the summer months. This craft market offers goods such as leather, ceramic, pottery, artwork etc. for sale.
San Miguel has a great market on Wednesdays. This is a typical Spanish village in the Southern Costa Blanca. The main economy here is agriculture. San Miguel De Salinas lies approximately 7km inland at the same height as the coastal town of Torrevieja.
Nightclubs
The largest club locally is 'Pacha Torrevieja', a sister club of 'Pacha Ibiza'. This club is enormous, and is based outside Torrevieja in an industrial estate. The club only gets busy after 1am. There are also a number of other nightclubs in the locality.
Theme Park
Terra Mitica is a large theme park located just north of Alicante. It contains rides for all ages, and all levels of bravery! A great day out for all the family. Bars, restaurants and cafes are all located on site.
Torrevieja Park of Nations
This park also known as Dragon Park contains a large playground, and a life-size dragon slide. It also contains a large lake, pedalos and a train ride.
Waterpark
Aqualandia is a waterpark located in Torrevieja, which is good, safe fun, and is fairly priced. Open from May-October. Bars, cafes and restaurants are all located within the complex.
Water Sports
Scuba Diving and Snorkelling are catered for locally. The crystal clear waters are ideal for diving. If you would like to learn how to dive, there are a number of local instructors.
Local Activities
There are many varied activites that you can take part in around Cabo Roig. Here you will find a list of the most popular attractions, arranged alphabetically.
Arcade
The Ozone Leisure Complex contains an amusement arcade, bowling, adventure land for children, bars, restaurants and McDonalds and Burger King.
Baths
The local mud lagoon is rumoured to cure all kinds of ailments inlcuding cardiac and respiratory diseases and even arthritis.
Beaches
The apartment is only 6 minutes walk from the local Playa Cabo Roig Beach, a sheltered beach with calm waters. You will find many 'blue flag' beaches in the vicinity, which play host to water sports and beach cafes.
Playa Cabo Roig - Beach bar, marina, watersports
La Zenia - Beach bar, cafeterias
Playa Flamenca and Punta Prima are also nearby beaches.
Boat Trips
Why not take a boat trip to the island of Tabarca? Or take a cruise along the costaline and admire the beautiful scenery? There are a large selection of boat trips to choose from in Cabo Roig
Bowling
See arcade above.
Caves of Aracena
Some of the largest caves in the world are located here, along with ruins of castles and fortresses. The beautiful underground lakes, and the sheer size of these caverns makes the visit to these caves an unforgettable experience.
Cinema
The cinema in Torrevieja shows films mostly in Spanish,but occassionally they cater for English speaking customers.
Day Trips
Benidorm
The tourist centre of the Costa Blanca. Excellent sandy beaches, and countless leisure facilities. Terra Mitica theme park is nearby, as is Terra Natura, a new theme park featuring animals.
La Manga
Ideal for those who love watersports, swimming, sailing, windsurfing are all catered for here. There is also a casino, and championship golf course.
San Pedro del Pinatar
A quiet Spanish town with unique sandy beaches. Contains many seaside fish bars. This town is home to a peaceful way of life.
Torrevieja
The old fishing port of Torrevieja has a beautiful promenade with spectacular fountains. The Marina still retains much of its original charm and character, having its own harbour and fishing fleets. In the town centre, you will find numerous shops, restaurants bars and clubs.
Attractions Gallery