Top class golfing holidays in Spain
View the gallery >>
From La Rotonda Aparthotel you have access to a top class selection of superb Spanish golf courses. We can offer you special Golfing packages and discounted green fees (accomodation, breakfast, golf & transport) in conjunction with The Great Golf Company, all in one booking. Let us do the work for you, so we can make sure that your golfing holiday is the best it can be. Whether you are a high handicapper or a scratch golfer everything will be taken care of, from tee times to tea times!. For more information please email us.
If you need golf trophies (inscribed if you wish) for your presentaion night, this can be arranged!
Many golfing packages accommodate golfers on site, but at La Rotonda Aparthotel you get the best of both worlds. From our complex you are within easy reach of the best golf courses in Spain (and many more are planned in the surrounding area), as well as having access to the beaches, shops and nightlife of Cabo Roig, all of which is on our doorstep!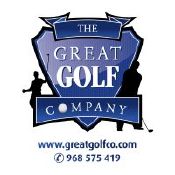 The Great Golf Company is the largest English speaking Golf Retail Company in Spain. With 3 shops at Cabo Roig, La Manga Golf Resort and our 1000sqm superstore at Balsicas, we are able to offer you the best possbile equipment and clothing at the best possible prices. We have an indoor driving range and putting mats so you can try before you buy! and our fully trained professional treaching staff can help with all aspects of your game, from which types of ball you need to the best clubs to suit your swing.
Have a look at our website for some of our best deals on offer. For more information please visit greatgolfcompany
Superb local golf courses
Campoamor

A beautiful championship golf course with stunning views over the Mediterranean sea.
Villa Martin

One of the most prestigious golf courses in Spain & host to the Spanish Open. Simply outstanding.
Las Ramblas

An outstanding, undulating golf course worthy of the name "The Rambler", take plenty of golf balls.
La Finca

Fantastic greens (fast and tricky) and bermuda grass fairways make an amazing golf experience.
Gallery