BOOK DIRECT FOR CHRISTMAS 2023 AND THE NEW YEAR
For the Winter months we are taking Direct Bookings only. Book Direct with the Hotel Reception for the Best Direct Prices and Deals- while we still have Availability!
We have a few remaining Apartments for Christmas and The New Year. Make a Reservation before its too late!
2024: FAMILY RUN RECEPTION ENTERING ITS 18TH YEAR !
After 18 Years we must be doing something Right. If yout looking for Peace of Mind, Trust and Lovely Clean Bright Apartments Then Look no Futher. Make a Reservation with Reception Today.
2024: For the Best Discounted Prices, Book your Holiday with us Direct. Choose from 1, 2 and 3 Bedroom Fully Self Contained Apartments with Aircon.
Contact us now: click on the Booking Button at the top of this page and send us an Email, with your Name and details. We will reply to you asap.
Or, call Reception: 0034 965 321 225 / Mobile/Whatsapp: 0034 697 453 332.
We accept Visa and Mastercard credit/debit cards/PayPal/Revolut/Bung/Bank Transfer. You can pay in Euros or Pound Sterling!
La Rotonda Apartments in Cabo Roig Costa Orihuela Costa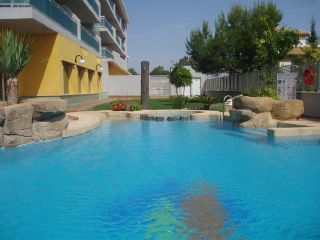 Welcome to La Rotonda Aparthotel, Situated (central) in the holiday resort of Cabo Roig Orihuela Costa on the Costa Blanca, Spain. If you are planning to rent a self contained apartment in Cabo Roig then look no further than The Reception La Rotonda Aparthotel. We Have a number of 1, 2 and 3 Bedroom Apartments for Holiday Rental. We can accommodate Family Holidays, Weddings, Golf Groups or Group Celebrations. Maybe your searching for a Holiday home on the Costa Blanca. Whatever your reason, if it's a short weekend stay or a Family Holiday, we can take care of all your needs. Cabo Roig Orihuela Costa is well know for it's Beautiful Golden beaches, it is an ideal place for Vacations. Cabo Roig has some of the best Restaurants and Bars on the Coast plus there's plenty to do for the children from water parks to go karts!
Booking Your Own Flights and Accomodation
Nowadays, it is so easy to book your own Family Holiday online. With cheap air travel to Spain and the Costa Blanca you can book with most of the major budget airlines, the following low cost airlines fly to the New Murcia airport or Alicante airport which are on our doorstep. Fly with Ryanair, Easyjet, Air Lingus, British Airways, Icelandair. These low cost airlines are always giving cut price flights to the Costa Blanca Spain, all year round!
Before you book your flights make contact with us, we will let you know the best available dates we have (for the apartment you need) to match the best price flights you have seen online (Many of our returning guests who book with the Reception at La Rotonda have made their Resavations this way, year in year out!) Book your family Holiday Apartment and Flights in one go, you will be amazed at the savings to be made. By spending time on the internet, you can have your flights and accommodation to the Orihuela Costa wrapped up, in no time at all.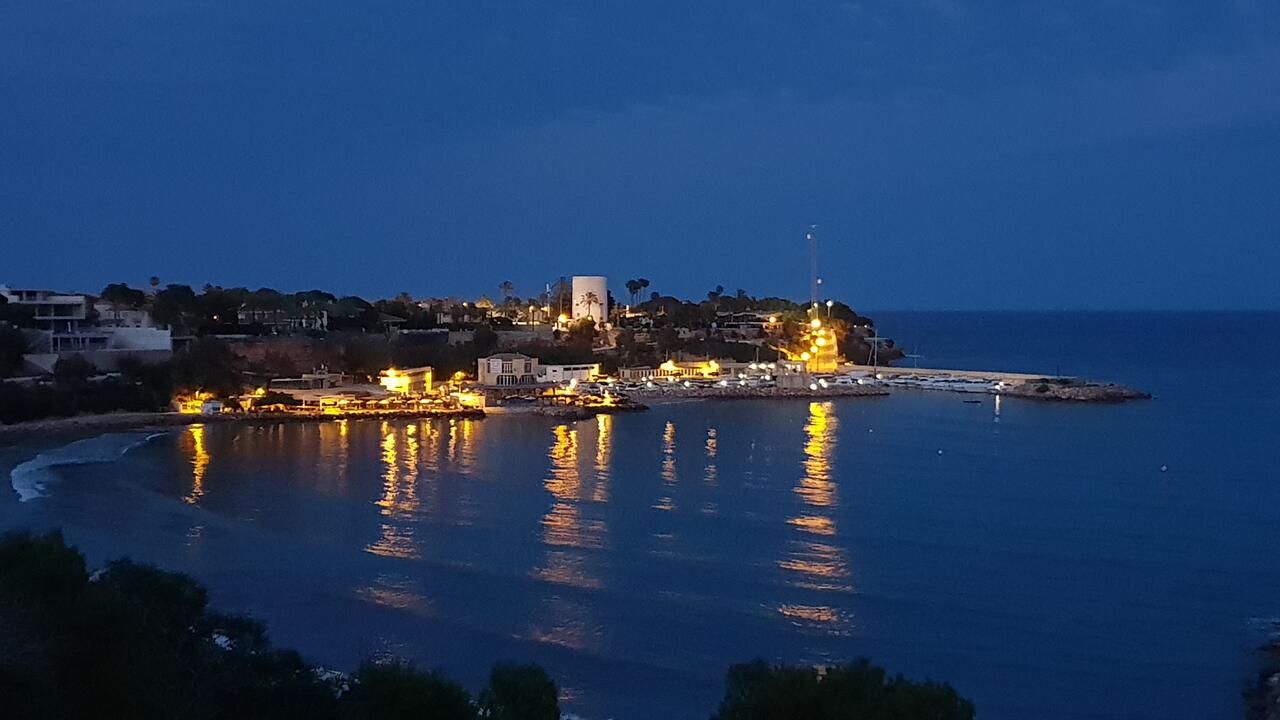 In a ever changing World, booking a Self Contained Apartment will be the number one choice for many people from now on, The Virus pandemic has made people revaluate how they juggle vacation time while at the same time being conscious about the health and safety of themselves and family.
booking your own apartment you have plenty of room in your lounge, bedrooms, kitchen, bathroom and your own private Balcony with table and chairs. Plenty of fresh air when you want it.
Your not too high up, we are only three floors high. 2 elevators and 2 stairwells.
Aparthotels offer the independence and surroundings of a villa, with the convenience and facilities of a Hotel- staffed Reception. Choose from 1, 2 or 3 bedroom apartments, all with a fully fitted: kitchen/Bathroom. Aircon. Private WiFi plus your favorite English/Irish/Spanish/German/French/Russian TV Channels.
Cabo Roig is within easy reach of the New Murcia Airport (35 mins), Alicante airport (44 mins), a Lovely resort for Family holidays on the Costa Blanca in Spain. The nearest city to us is Torrevieja (10mins) which is full of night light Restuarants/Bars and night markets and has a big fair near the water front.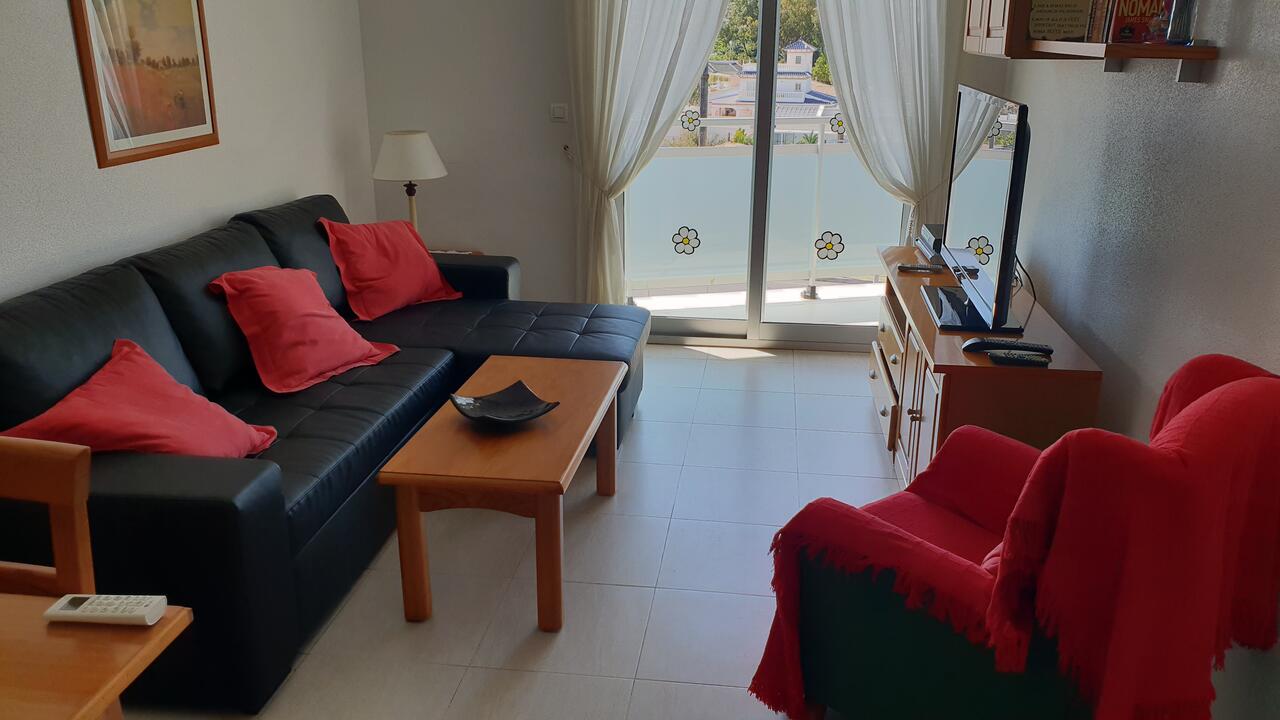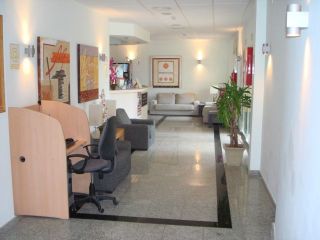 Contact Us
La Rotonda ApartHotel
Calle Augu 3. Cabo Roig
Orihuela Costa
Costa Blanca
Spain 03189..
Reception: (0034) 965321225
Mobile: (0034) 697453332
Bookings and information
Click here for rates
You can now call our English phone number from your landline, mobile or internet. UK rates apply
If you use Skype the call is free

Call (0151) 324 2717

You can now see us on Facebook. Find out more about The Reception at La Rotonda Tourisico and what we have to offer. If you have enjoyed your stay in one of our Apartments, feel free to leave a comment on our Facebook page and give us a like, you can upload photos of your Vacation on the Orihuela Costa, keep in touch with people you met during your stay. See what others are saying about The Reception Apartments at La Rotonda. Click on the box above.
La Rotonda Aparthotel: provides apartment for rent in Cabo Roig. Cabo Roig is in Orihuela Costa on the Costa Blanca. Spain. Fully self contained apartments for family holiday, golfing holiday, wedding groups, weekend breaks, shorts breaks in Spain. Holiday apartment rentals all year round. 1 bedroom apartment, 2 bedroom apartment, 3 bedroom apartment, with rooftop solarium. pool area. very central, near to the beach. summer sun, winter sun, apartment rentals in Cabo Roig. Cabo Roig is part of Orihuela Costa, so is Torrevieja, Campoamor, La Zenia, Punta Prima, Playa Flamenca, Mill Palmeras, Villamartin, Pilar de la Horadada, Torre de la Horadada, San Miguel de Salinas. Golf courses include Villa Martin golf, Las Ramblas golf, Campoamor golf, Lo Romero golf, La Finca golf, La Serena golf, La Colinas golf, La Torre golf, Mar Menor golf, La Manga golf, Roda Golf, very international, cabo roig strip, irish bars, British bars, cabo roig restaurants and bars, st patrick's day parade.